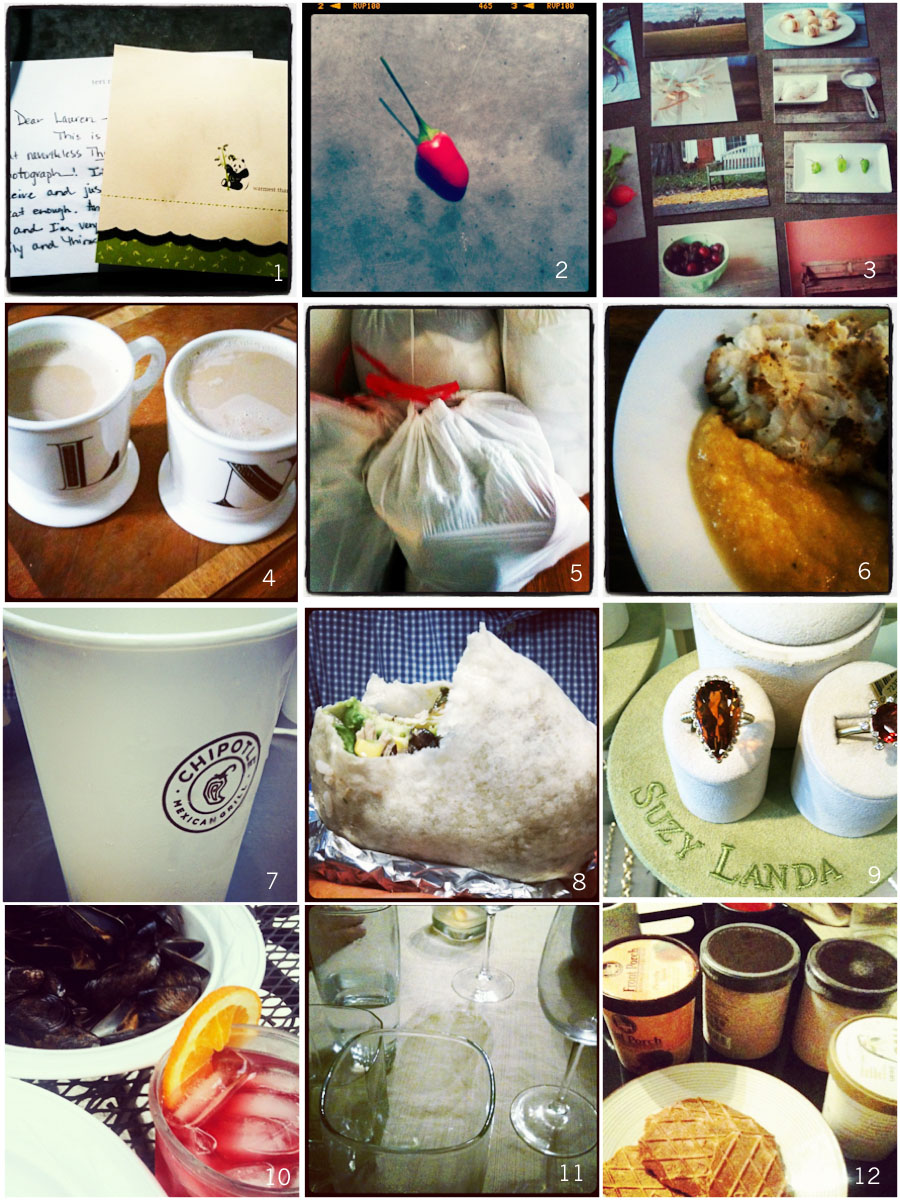 1. Thank yous | 2. Hotter than hot. | 3. Moo-love. | 4. Morning ritual. | 5. Clean out. | 6. Fish on the grill. | 7. Lunch. | 8. And lunch. | 9. Gem-bliss. | 10. Sunday-night starter. | 11. Dinner with friends. | 12. Dessert with friends.
Well, how is everybody today? I had such a weird weekend, a total study in contrasts. Saturday was go-go-go. We'd planned to hit our local art museum as a family in the morning, but Neel and I both got going on hot and sweaty projects that made it tricky to get out the door. Take note of all those bags ready to get donated. Why do I always have bags and bags to donate a day after the guys come around collecting? Once we did get out the door, it was a rush to Chipotle for lunch, which is always awesome, but where they were cooking something peppery that made people cough as soon as they walked in the door. It happened to all of us. You cough for a few minutes, uncomfortable, and then all done. Weird. Then Neel rushed Cal to a baseball hitting session while I got to go hang out with my favorite ladies and some of the most gorgeous jewels ever at Selma's. Big news coming from Simply Selma's, and I'll fill you in on that soon, but have you ever seen Suzy Landa's jewelry? Heartstoppers. And she's such fun too. I haven't looked at the pics I took yet, but I'll post a bit more about my afternoon there later in the week. You know how much I love being there. I loved sharing my new Moo cards with those guys (honestly, I'm so tickled with my cards, that I'll share them with anybody!), and it was totally worth the white-knuckled drive home through a blinding storm just to spend the afternoon with some of my favorite women.
We were invited to a lovely dinner party Saturday night, and I'll tell you more about that this week too. As we were getting ready to go, Neel and I were talking about how we feel like we never go to dinner parties any more. It's just not part of our vibe these days. But of course just that afternoon, I'd been talking with the Selma's gals about doing a dinner party next month, and the final photo from last week's Monday Mash Up was from a dinner party we were at last week. So what's the matter with me? Still, it got us to talking about the idea of starting a supper club. What do you think, Julie? You in? Any one else?
It stormed the whole time we were at our friend's house for dinner and had just stopped raining by the time we headed out to the car. And of course one day after I tell Erin that wedges are oh-so-stable, I stepped in a huge hole (Neel even stepped in it, gingerly, to verify how deep it was.) and twisted my ankle. Nothing terrible happened. There's nothing broken or torn or even terribly swollen, but I woke up Sunday morning with an achy foot and an achy head and generally spent the day feeling sorry for myself. It was great! Kidding. So Saturday was go-go-go and Sunday was sit-sit-sit. Except for the grocery store. And we steamed some mussels and grilled some fish. And Neel edged our front path and it looks beautiful.
I spent a good bit of my down time continuing to fiddle with my new Squarespace site design. It's been giving me fits and making me feel dumb, which just isn't how anyone wants to be. I know that played a part in the funk I was feeling last week. That and just trying to coalesce how I feel about this space and what I want it to be. I asked Suzy to tell me her story a little on Saturday, and although we didn't get to chat long (lucky for those guys it got busy, but when does she come back, Marianne???), she said something really compelling. Her parents always wanted her to have a back-up plan, and she said that she doesn't believe in them. If you have a back-up plan, you use it. Food for thought. I got to a better space about the site design, one where I'm making decisions about what I want it to convey rather than trying to make boxes move to places on the page that they don't want to go (maddening), and it gives me time to think about what I really want. I'm not completely there yet, but I have to remember that my word for the year is leap. Need to keep working. Keep refining my craft. Keep learning. And trust that the path will become clear.
I have to tell you about that pepper! I was editing some pictures at the computer Friday night when Cal came bolting in from the back yard. This in and of itself is not unusual. But there was an urgency to his bolting that made me take notice. I looked up to find him, face flushed, guzzling water and looking around for bread. Less than a minute, Neel came bolting in and yanked the water away from my son. Apparently they are Thai red peppers. Cal ate a whole one and Neel ate half. Now Neel's half Indian and Callum prides himself on his ability to tackle spicy stuff. Not that tiny bullet. Callum said his jaw and even his ear hurt. He was still talking about it days later. I will not be trying said peppers.
We watched The Hunt for Red October Sunday night. Callum had to read it for school (it's over 600 pages long), and to celebrate we pulled out the movie. It's one of our favorites. I'm proud of him for powering through the book. I had a banana popsicle. It was almost as good as I remembered. But quite possibly the best part of the weekend was two gorgeous thank you notes from Teri and Theresa. I don't hand write notes enough, and I should. Getting those sweet messages from my far-away friends meant the world. I'm inspired. Time to order some notecards from Moo.