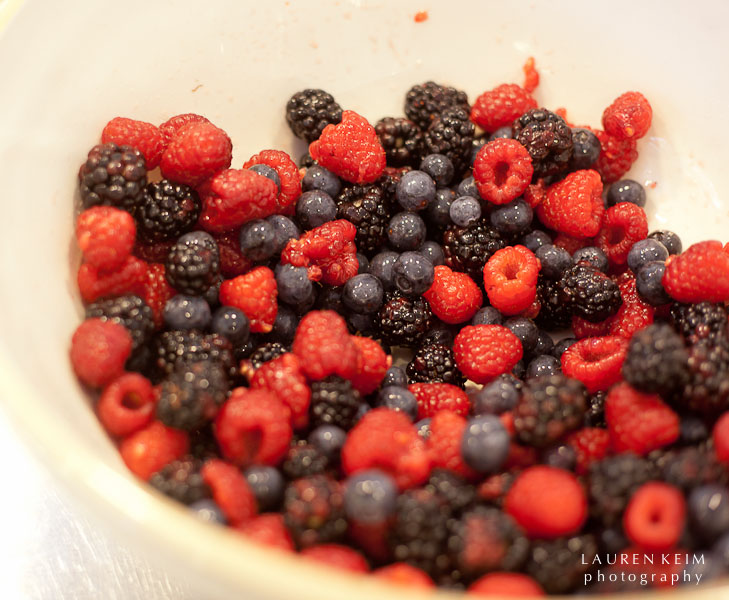 Adapted from Tyler Florence's Lemon Curd Trifle with Fresh Berries
1 pint each, raspberries, blueberries & blackberries, gently combined
1 pound cake, sliced
1 cup whipping cream
1/4 cup sugar
1 teaspoon vanilla extract
Several spoonfuls of jarred lemon curd (I totally cheated, folks!)
Limoncello, if desired (ha)
Whip the cream with a mixer until it forms stiff peaks, and then add the sugar and the vanilla. Gently fold in the lemon curd until well blended.
Cover the bottom of a trifle bowl (call your neighbor if you don't have one) with slices of pound cake, arranging them to fit. Drizzle with Limoncello. Don't be stingy here. Repeat: don't be stingy here. The pound cake can get dry, and the Limoncello can help keep it moist. Cover the pound cake layer with a layer of the whipped cream. Top the whipped cream layer with a layer of the berries. Repeat the layers (drizzling the pound cake with the Limoncello) until you're out of ingredients (we got three layers out of our stuff), ending with a layer of berries. Garnish with fresh mint. Our trifle sat in the fridge for about 5 hours, and by the time we ate it, it wasn't terribly lemony. I don't like a ton of lemon flavor, and even I was a bit disappointed. It's a balance, I guess. More Limoncello, and we might have had soggy trifle (soggy trifle = no good). Sitting longer might have also meant soggy trifle. By the next morning (And yes, we had trifle for breakfast, there wasn't that much Limoncello!), it was just about perfect. So I might advocate making this the day before. And sharing. So much better shared.
The light was so lovely when I took these pictures. That pre-rain lovely light. I'm almost tempted to turn this post into a PDF and make a recipe card out of it!