I know, I know, I still haven't written about the curtains, but I'm just as excited about this. I just couldn't wait! It's the first time I've pinned something on Pinterest, decided I could do something for cheaper, and went out and did it!
I made a table runner! I have a dining room board on Pinterest because frankly, much as I love it, our dining room just isn' there yet. I'll do the full tour some day, but I don't like our chairs and it just feels dark in there to me. Right at New Years we replaced some seriously beat up and ugly sconces, so we're making progress by baby steps. B A B Y steps. I adore our table, but I'm trying to brighten things up in there. When I saw this burlap table runner, I thought I could make something just as nice for cheaper and nicer for anything I've seen looking around.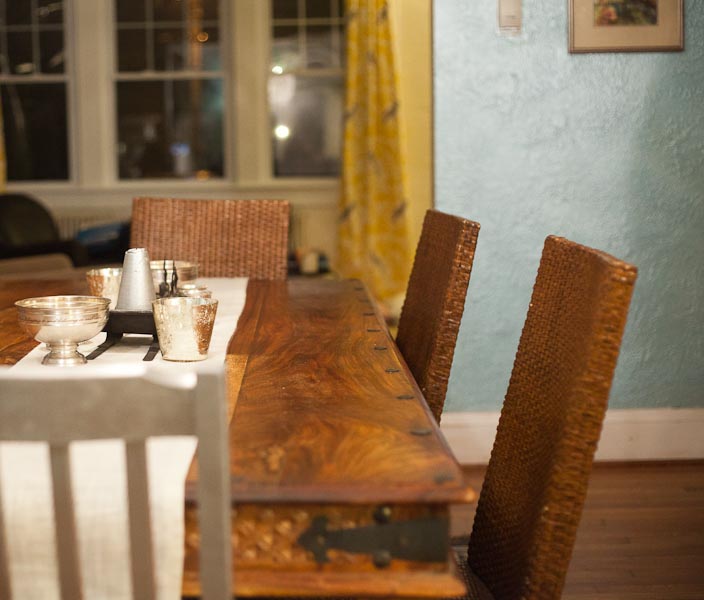 I think it looks pretty nice in there during the day and the night.
When I mentioned the curtains, several folks mentioned hem tape, or something called Stitch Witchery, and I used that instead of sewing. Yay me. And thank you, whoever you were!
I tried it with Neel's mom's Limoges.
And I tried it with our everyday stuff too. I think I pretty much love it with both.
We've started making a comittment to a nice Saturday night supper together, and I wanted to have the runner done for our dinner.
When I was a kid, Saturday night dinner was a big deal at my house. My mom and dad would have a bottle of wine, and I'd get Coke in a wine glass for a special treat. Cooking together in the kitchen, we'd listen to Al Jarreau, Phoebe Snow and Manhattan Transfer. This past Saturday, my dad went to a Manhattan Transfer concert, so we popped a MT playlist on the SONOS, and I felt transported back in time.
Saturday night's all right with me.