Well, we made it. It was wonderful. One of our best trips yet. And we've been on some good ones. I think there were a lot of factors, but Callum's age played a big role (wink), as well as our general relaxed excitement. The dogs however, Violet especially (1) were less excited when the suitcases came out. We got out the door at 6:30 AM (despite what the clock on my satellite says) (2), and quickly made our way up the Eastern Shore of Virginia and Maryland (4-9). I made a decision before we left to relax about the camera, and while we were on the road I relied solely on my phone (thank you new iPhone!). It was the best decision! I love instagram, and I loved the ease of just whipping out my phone and not worrying. Don't worry. I got plenty of pictures with Big Daddy. Those will come later this week. The first part of the trip is very familiar to us. We make this trip often, most recently to see Erin and the Phillies. Once past Pennsylvania, we moved into NEW TERRITORY. This means New Jersey, and lunch at the PhiLy (one L) Diner.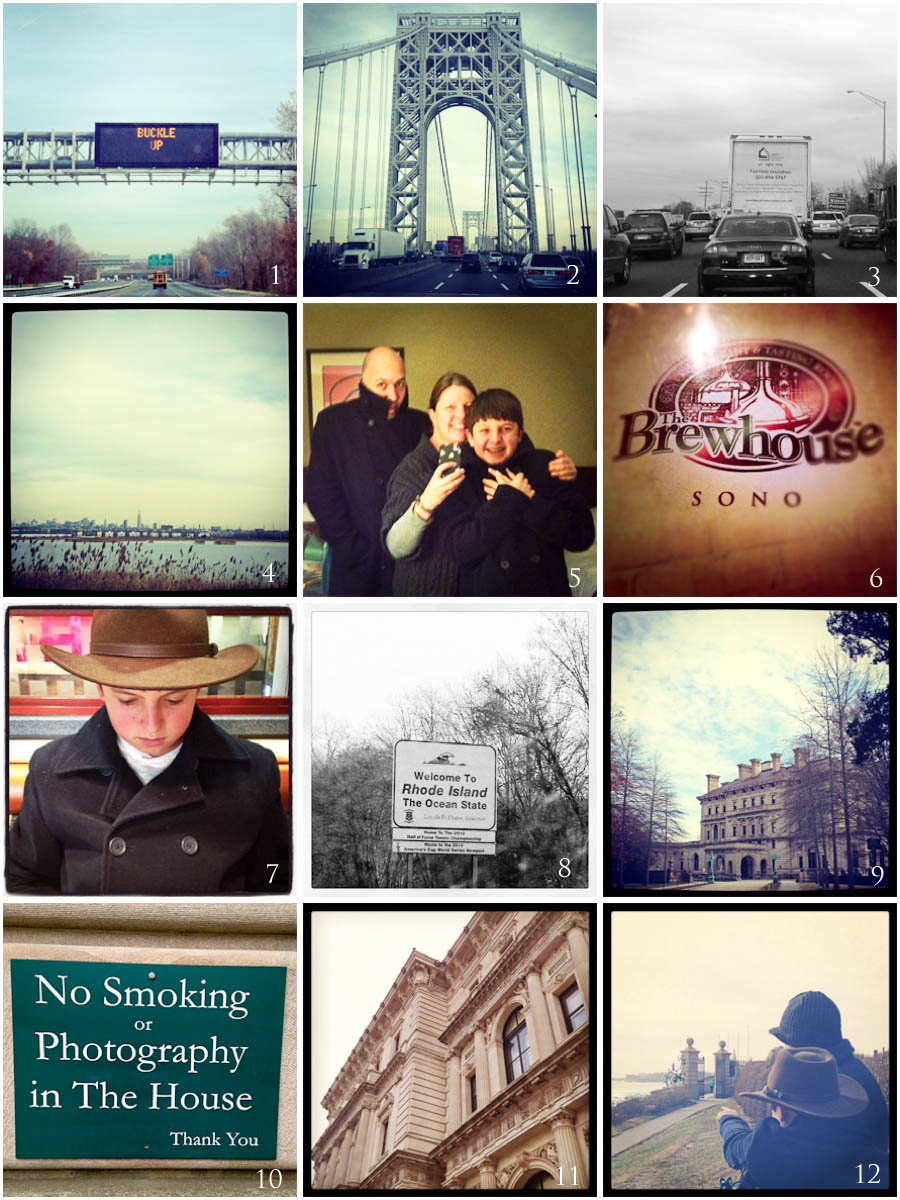 After lunch we stayed in New Jersey, skirting New York City to head toward Connecticut. We gave the skyline a quick wave (4) before heading over the George Washington Bridge (3) and into the worst traffic we'd seen of the trip. Not wholly unexpected, but still a bummer. The last ten miles felt like it took the longest of the whole day. Our first night on the road was spent in Norwalk, Connecticut. I could not tell you much about this town. Barely remember it! Sad, huh? We tried to get to the waterfront for dinner and somehow ended up at a Brewery (6), which was not a shabby option. Callum had clam chowder, which pleased him very much and Neel and I had some beer-steamed mussels which were some of the best we'd ever had. Definitely gonna try that sometime. But really, Norwalk was a blip. We were up early, grabbing a quick breakfast, and out of town. Off to our friends. Off to Nantucket. Couldn't make it there first, without a quick stop along the way, a little detour in the Ocean State. Big Daddy came out at The Breakers (9-12), and I'll have more photos of that too.
We finished up in Rhode Island, passing acres of stone fences (1) before heading into Massachusetts and toward the Cape. On the way, we passed by Mystic, Connecticut (4), another place I always wanted to visit. Some nice scenic spots on this drive. And then, the ferry. I tweeted it right before we left. There is something especially celebratory about boarding a ferry for your holiday celebration. We were a bit early, which gave us some extra time to settle in and for some of us to take our Dramamine (ahem). I took some pictures and met a young man from Norway who'd been in the US for school for several years and was considering staying. His parents were here to visit and were meeting his girlfriend's parents for the first time! Little snippets of so many lives. He was excited. The three of us (9), well, we were excited too. We sat outside for the whole of the hour long trip (Neel diligently staring at the horizon), saying farewell to Hyannis (10) and the mainland, and saying hello to Nantucket (12).
I have so much to say about Nantucket. Too much to say here. So I'll just say that some things never change. These kids are all like cousins (1, 14), and my friend Megan hates to have her picture taken (3), and and that these friends are so dear to us. We do a lot of things together really well, like eating out and sharing small plates (2), and cooking together (10, 12, 15) and just being together (16-18). We've done it in a lot of places and we always come back to how easy things are when we get together. Easy is good. And Nantucket? Well what can I say. Later this week, I'll let Big Daddy do the talking, but love. Getting on the ferry to come home and leave our friends behind (21) was hard.
I conned my family into stopping at Mystic Seaport (3) on the way back home. Lucky me. We had a great lunch in downtown Mystic, and if we'd stayed the night there we'd have seen the boat parade up the Mystic River (where Santa comes into town on a boat!). But too bad Mystic! We're chowing down on more chowder and lobster rolls, (5) and we're outta here. New York City here we come! When I was looking for a spot for us to land on our trip back home, it finally dawned on me that we could swing by New York. Callum has loved New York since a trip we took there a couple years ago, and even a whirlwind stop could be fun. We ended up at a Sheraton in Weehawken, New Jersey, right at a ferry stop (8) across from the city. It was a perfect solution, and when I discovered that we could get a room with a view of the skyline, well, sold. We only had a few hours, so we hit all our high points. Dinner at Callum's favorite spot (14), a tool around Times Square and then up a few blocks to ogle the lights and the (pre-lit) tree at Rockefeller Plaza (13). Back on the ferry (11) to the hotel, and by far the best part was watching the sun come up over that skyline (16-18).
We were meant to have brunch with some family we haven't seen in (literally) years on Sunday morning, but their daughter was sick so we had to give it a pass. Seemed like time to hit the road anyway. We had snacks and treats and listened to Ke$ha DJ on Cal's favorite station on the satellite (when Neel wasn't changing over to the Grateful Dead). Callum and I split shot-gun duties, and Neel (mostly) managed his Dramamine. We had no rain! The seas were choppy on the ferry ride back, and the boats got canceled the next morning. By Sunday, the road opened up before us. Almost immediately we were back on familiar territory. My favorite bridge in Delaware (3), farmland of the eastern shore on Maryland and Virginia (4-6), and our beloved Chesapeake Bay. It's not an island 30 miles out to sea, but it's not a bad place to come home to.
Since several of you have asked, here's a link to the route we took. It's an 11-hour drive and after that, a 1 hour ferry trip to the island. We hit traffic around NYC both times, but it was actually much more managable than we expected. We did it in 8/5 on the way up, with the stop at the Breakers and 5/7 on the way down, with a stop in Mystic, CT.